Developer
Developer
Retired Staff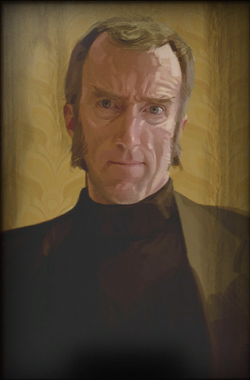 [GENERAL INFORMATION]




[NAME]: Mathias Thulmann
[DATE OF BIRTH]: February 8, 1968
[SEX]: Male
[NATIONALITY]: American
[PLACE OF BIRTH]: Tampa Bay, United States of America
[MARITAL STATUS]: Unwedded
[OCCUPATION]: Area Director
[PREVIOUS OCCUPATION]: Area Director of Area XYZ
[AFFILIATION]: SCP Foundation - Area XYZ
[LANGUAGES]: English
[RELATIVES]: None
[TROPHIES]:
Owns a tie that has many little rubber ducks on it
Holds his mug that says "Lay offs anyone?" in high regard
Owns a pair of black sunglasses that he never wears because he works in a secret underground facility
His cuff lings on his suit are dollar signs
Has a nice light, white pocket square on his suit jacket.
[NOTES]:
Mathias Thulmann graduated from the University of South Florida and received a degree in network management.
Mathias Thulmann has a powerful voice and a flamboyant attitude. He is at some times overly assertive in his demeanor.
Mathias Thulmann is always smiling, cool, and collected. Although, he is known to get burst of rage when people do not listen or when he has to repeat himself.
Mathias Thulmann enjoys speaking with class D personnel to ensure they're treated ethically.
Mathias Thulmann knows how to play worm when a youtube video is buffering.
Mathias Thulmann hates when people ask for a raise or when people terminate class D for no good reason.
[PHYSICAL INFORMATION]
@Nic
[HEIGHT]: 6'3
[WEIGHT]: 180
[EYE COLOR]: Brown
[HAIR COLOR]: Brown
[BODY BUILD]: Slim
[SKIN TONE]: Caucasian
[DISTINGUISHING FEATURES]: None
[PHYSICAL DISABILITIES]: None


[MENTAL INFORMATION]



[MENTAL DISABILITIES]: None Everything
[ADDICTIONS]: Lemonade
[SEXUAL ORIENTATION]: Heterosexual
[LIKES]: Chocolate milk and graph paper.
[DISLIKES]: Soy milk.

[RELATIONSHIPS]


[HATED]


[DISLIKED]
Lt. Glenn
Dr. Jarvis - "Fucking logistics..."
[NEUTRAL]
Manager Farris
[LIKED]
Lt. Sliskin
Dr. Bliss
Engineer Tito
Manager Andrews
[TRUSTED]
Lt. Wallabee
Manager Zeener
Dr. Stealer
Manager Sobel
[FAMILY LOVED]


[LOVED]
Himself
Last edited: