Big Guy
Retired Staff
Member
Hello! I was looking for new SCPs to add into the server and I found this!
It's a murderous yet puzzling and sometimes even friendly skeleleton
named sans
http://www.scp-wiki.net/scp-3114
It's a 1.6m animated skeleton who is really hostile towards humans and tears their skeletons appart. It can be subdued via bone breaking. Sometimes it appears to show particular behaviors, like playing with a dog or wearing a corpse to interact with human beings. When wearing a corpse he attempts interaction with humans.
2. Post a link to a model from the steam workshop. If you don't have a model delete your post now.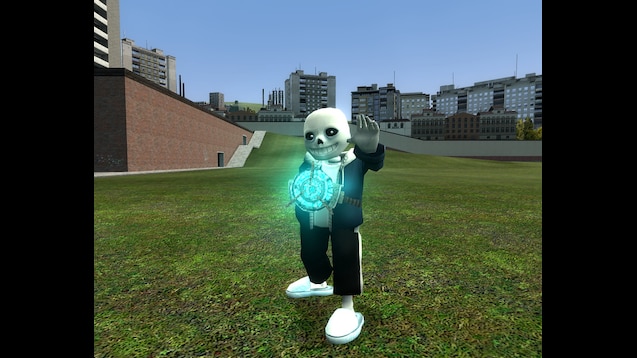 Nah Im kidding
https://steamcommunity.com/sharedfiles/filedetails/?id=104538509
3. Post a link to any sweps it would need from the workshop or list the sweps that are already in the server it could use.
It probably would need a swep or weapon (via inventory) the weapons would be melee(3114's hands) though the kill would be with /mes unless he got a weapon. What matters is that 3114 can interact with a corpse on a similar matter of a glass shiv, that is to say, that 3114 is able to harvest the bones and the body(or uniform to wear it).
4. Explain how it would work. (Rules, Gameplay, RP, breaching, interacting with other SCPs, recontainment, ect)
Containment
3114 Would probably sit at lower or upper HCZ. The containment procedures talk about a human projection to lure 3114 into different rooms which can be done via /adverts.
Cleanings and room enrichment can be done as code green activities once 3114 is lured out of his cell and contained in another.
Breaching and recontainment
3114 cannot breach by itself and is really dangerous when uncontained. It must chase down the closest human and attempt to kill it via /mes or a knife if he finds one. Any other weapon is out of the question as it could damage the target's skeleton. He would then have to harvest its skeleton with the swep and if he wants to, wear the subject. If the subject is worn, 3114 must act docile and try to communicate and interact with humans in a tender manner. 3114 cannot speak but must try to mimic human non verbal communication.
3114 can be recontained in two ways
If he is wearing a subject, he must comply to people escorting it back to his CC
If he's not wearing a subject and active he can be shot until most of his bigger bones break, making him go "Limp" like 682 then taken backc to his CC
3114 would ignore almost every SCP with some exceptions, in which 3114 must engage.
3114 is to engage 662-1
3114 is to engage instances of 049-1 but not 2292-1 as 2292-1 are fucking beaten by a gorilla and thus probably have bone damage
3114 is to engage 035-1
If 3114 should engage in obvious suicide against 096, 397,2292, 082,682 and 939 or 076 (since they all have skeletons) is up to the A-team. I think it is better if he ignores all those.
3114 is to ignore everything else.
By the looks rules would be like
3114 cannot speak
3114 cannot interact with any SCPs with the exception of the following
3114 must kill its targets with his hands via choking or with a knife.
After a kill 3114 must harvest its skeleton.
You cannot show any signs of hostlity while wearing a corpse.
If the skeleton of the corpse is in any way damaged(IE killed by a fall) ignore it.
3114 can open doors but cannot switch RDC
3114 must chase the closest human to him.
5. How many people can become the job at one time?
1.
6. What would its cell need to look like? (Keep in mind it requires the map to be edited so nothing too crazy or big)
Something medium sized like 397
7. Why would we want this on the server?
It is a really complex SCP on which much research can be done while still being a fun and engaging killing machine when it's time.
This is a bit rushed but with enough help we can tweak some things and make this a very cool and engaging SCP for the server.